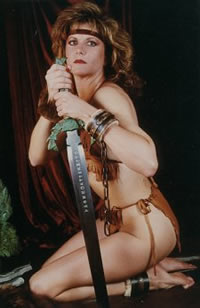 Welcome to Jack W. Crain Knives
Thank you for your interest in my custom knives.
I have been making knives since 1980 and this is my complete online catalog.
If you are not familiar with my custom knives and designs, you may find you have seen them many times and not known it. As a weapon master to the film industry I created and personally made many of the real knives and their prop versions for movies and TV series.
Take your time and look around my site. You will find the Survival and Combat knives including The Life Support System ® and other real knives I designed and made for: Arnold Schwarzenegger's films PREDATOR and COMMANDO; Sylvester Stallone's film DEMOLITION MAN; Steven Seagal's film EXECUTIVE DECISION; Robert Englund's filmFORD FAIRLANE; DRACULA 2000; David Carradine's film KUNG FU- The Legend Continues; Richard Chaves for WAR of the WORLDS. Also all the knives in the film: PREDATOR 2, ROAD HOUSE, ACTION JACKSON, DIE HARD 1 & 2 and others.
I have had the opportunity to work with authors to design and make several knives for books and books series such as the long running series The Survivalist by Jerry Ahern, Freeman by Jerry Ahern, Miamigrad by Jerry and Sharon Ahern, The Defender series by Jerry Ahern, Hawkeye by Daniel Stryker, Tac Leader by Bob Anderson, Ph.D., The Time Police by Warren Norwood and Mel Odom, True Jaguar by Warren Norwood, Shudderchild by Warren Norwood, to name a few.
Look around, you might want me to personally make a custom knife for you.